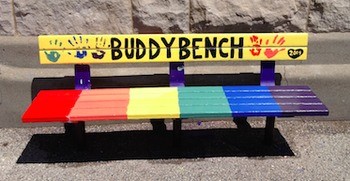 Buddy Benches at Child's Voice
Help students make friends and be a good buddy!
This project launched 06/30/2019 and ends 09/08/2019.
---
With your help lives can be changed at Child's Voice.
At Child's Voice, students work hard to develop their listening and speaking skills. One of the biggest parts of being in school is making friends.  And that can be tough for all kids!
Having a friend to support a child in school can greatly improve their mood and their self-esteem. Your support will help "lighten the emotional load" that a student may carry.  With this Buddy Bench a child can sit down, sharing that they're looking for a buddy or a child may see another there and choose to be a good friend.  Your support of the Buddy Bench will help children make new friends and life-long friendships.
A Boy Scout from Troop 222 is making 3 Buddy Benches for our program. He is doing this as part of his Eagle Scout effort.  Total costs for all three benches will be $700.  Your donation of any size will help not only the incredible students at Child's Voice, but will also help this Boy Scout as he works toward the prestigious level of Eagle Scout. 
All children flourish as they develop friendships in school, that is true for students at Child's Voice too. Thank you for helping to change the lives of children with your generous gift today! YOU are a Buddy to all our kiddos!